How to add and remove posts from your calendar
When you add a post to your calendar, essentially you are indicating that post should be published to your social media accounts on that day.
It couldn't be simpler to add/remove posts from your calendar. Simply click (tap) the toggle button for a post. You can toggle on/off posts either from the Post or Catalog panels in the app.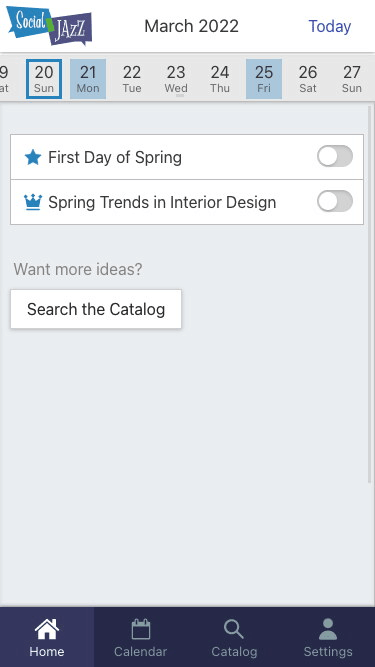 What posts can I select?
You have access to view all posts in our catalog. However please note that you can only add/remove posts that are included in the catalogs you have purchased.
Can I opt in/out of certain types of posts (eg. food)?
You bet. You can add or remove categories of posts like sporting events, religious holidays, food days, etc. Just search for the category you wish to omit and toggle off any posts you decide you don't want.
Will I be notified when new posts are added?
Yes. As we add on-trend or industry specific events you will receive a notification and get a chance to select whether you want to add those events into your social media calendar.
Can I opt-in and out of individual posts?
Absolutely! You have full control over which events and occasions get created and posted to your social accounts. You can review every post before it goes out and even decide which social platforms each post gets delivered to. In the end you have the power over your posts.