Getting started with the Post Catalog
Just a short time ago, you had to fill up your own social media calendar. And if you wanted to stay active on social media, that meant having to come up with ideas to post every week. Quite a chore. But now, you have access to fill your calendar with a few clicks from the post catalog. Whether you're looking to fill in a week, month, or even year, the catalog has something for so let's take a look.
Let's start with the basics. The post catalog is located in the right panel of the Social Jazz app on a desktop. Clicking the catalog icon on a phone or tablet brings up the catalog panel on your device.

What's included
The Social Jazz Catalog is comprised of 4 basic types of posts:
Events / Occasions
Observances
Trends & Topics
Industry related
We are adding new posts to the catalog every week, but don't you worry, we will show you what's new in the catalog panel AND send you notifications (provide you have notifications enabled). 
Searching the catalog
Though we hope you'll take advantage of our suggestions, you might want (or need) more to post about. While you can certainly scroll through the catalog in the catalog panel, a much quicker way to browse and find posts is to use the search. At the top of the catalog panel simple tap in the search field and start typing. The panel will show you the most relevant results.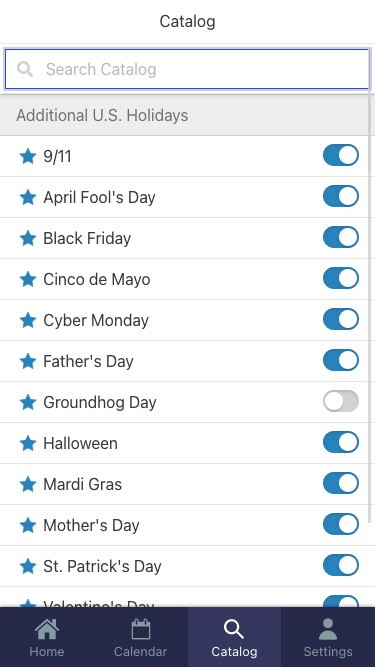 You can search for specific posts or try using a description of what you're looking for. Here's some examples:
Holidays in November

Food days

Mother's Day

Sports 

Summer
Any of these will return posts relate to that phrase or term. 
Adding & removing posts to your calendar
Once you find a post you want to deliver to your social media accounts, simply click the toggle. Social Jazz will:
craft a post with image, caption and hashtags (per social platform).
brand the post using you brand kit.*
add the post to your Social Jazz calendar.
present the post in the post panel for you to preview/review.
deliver the post to you social media account on the appropriate day.*
Simple toggle off a post and it will be removed from your calendar and will not get delivered to your social accounts.
*Please note, branding and automatic delivery are only available on certain paid plans.