Understanding your Social Jazz Calendar
There is no better way to plan and track your social media than with a social media calendar. It lets you see all the posts you've sent to your social media accounts, or plan to send - organized by month & day. Simply put, you use it to identify and fill in content gaps - those dreaded empty days/weeks when you don't have posts scheduled.
Social Media Calendar: an overview of your previously sent or upcoming social media posts displayed in calendar format

Content Gap: the absence of social media posts for multiple days/weeks in a row.

Let's start with the basics. Your social media calendar is located in the left panel (AKA Calendar Panel) of the Social Jazz app on a desktop. When using a phone or tablet, the calendar displays one week across the top. You can expand the calendar view on your phone or tablet by clicking the calendar icon on the bottom navigation bar.
Posts

You can see in your Calendar Panel days that contain posts you plan to send. They are shaded in blue. By clicking these dates in the calendar, you'll see the post to be sent in the Post Panel. 

Numbers in shaded-blue box mean there is more than one post on a particular day.The number indicates how many. In the example below, the number 2 means that there are 2 posts for that day.

A day outlined in blue indicates which day is active in the Post Panel. In the example below, the Post Panel will show posts for May 25th.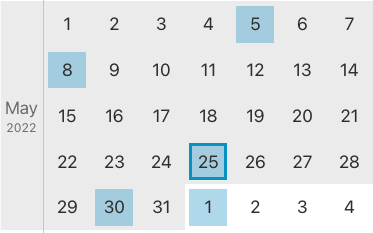 Bird's-eye view
On a desktop or the expanded view on a device, you can see a several months of the calendar at a time. This gives you a high-level, or bird's-eye view, of your social media plan. Scroll down to move forward in time on calendar, scroll up to move backwards in time.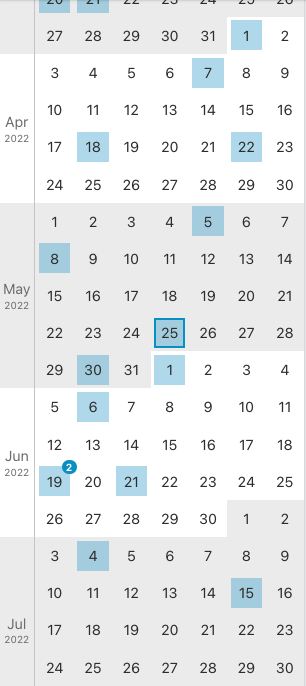 The absence of posts for multiple days/weeks in a row should alert you to content gaps.